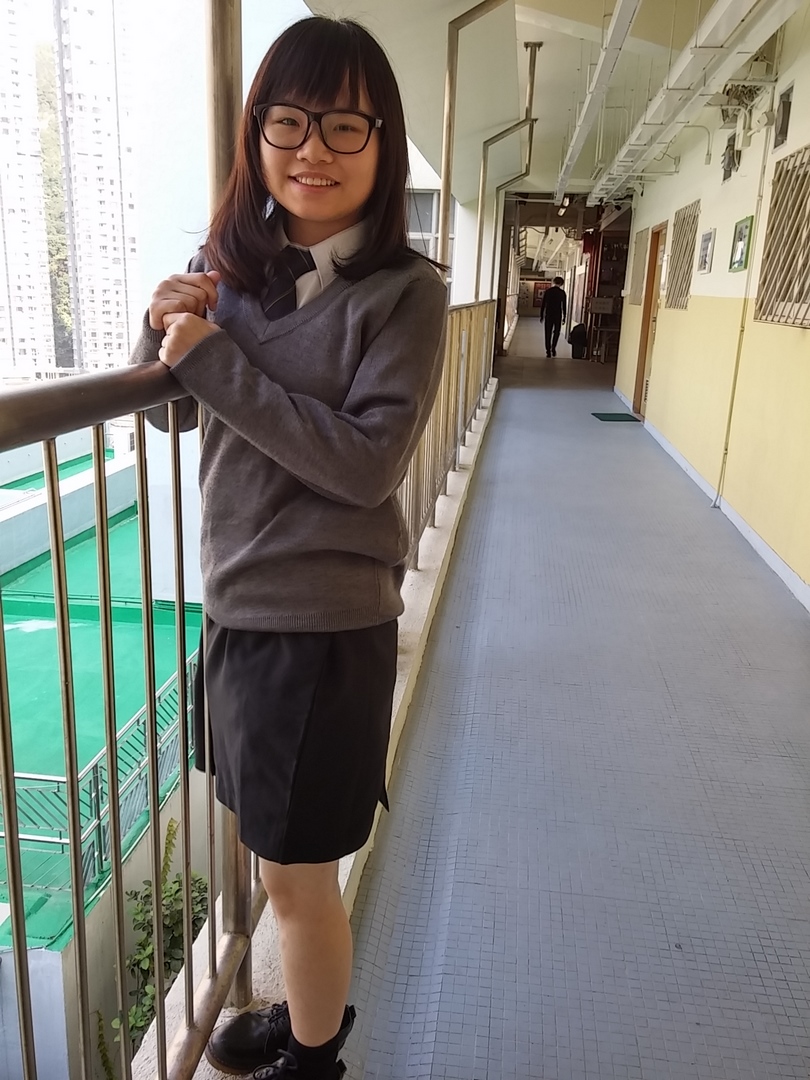 Ms. Yue Ka Ching is a happy and enthusiastic young girl who transferred to Form 4 at Kung Lee this year. She has many interests, including drawing and cooking. She is also a member of the College's debating team. Last December, she travelled to Guangzhou with the debating team for a friendly match with our sister school, Panyu Shilou Middle School, and took first place there.
When asked why she decided to transfer to Kung Lee, Ms. Yue said that she learned about Kung Lee through a further studies seminar at her previous school. She was attracted by the unique programmes offered by the College, and decided on the transfer. In particular, she was attracted to the coffee and milk tea brewing course. At Kung Lee, she looks forward to every Wednesday, because that is the day of her coffee and milk tea brewing lesson. Even though she has only studied for three months here, she is already quite an expert at brewing coffee. She says, "There are many kinds of coffee. You need to know their unique smell and remember their manufacturing location, history, and complementary items. Even if you study for one year, you've only learned the basics. I still have a lot of work to do if I want to become a professional barista." It seems that Ms. Yue would like to explore a future career in catering services.
However, when asked if she will choose the HKDSE programme or the VET programme when she moves onto Form 5 next year, she claims, "I will choose the DSE programme. But I know that the school will launch a Diploma in Travel and Tourism Management (Airline and Cruise) Programme next year, which I am interested in. If I can study both the VET and the DSE programme, that would be great!" It seems that Ms. Yue is still undecided.
Ms. Yue tells us that her dream is to become a kindergarten teacher. To become a kindergarten teacher, she must achieve a good HKDSE result so she can get into university and study early childhood education. "I've wanted to become a teacher for a long time. At Kung Lee, I have been inspired by my teachers, so I want to become a teacher even more. The earlier children receive good education, the better it is for them. Early childhood education is key for education in children, so I want to become a good kindergarten teacher and teach them well."
Ms. Yue is full of confidence when it comes to the HKDSE, "I love the core subjects of Chinese, English, Maths and Liberal Studies. I am also very interested in my elective subjects, Visual Arts and Fashion Design. In particular, the course content of Fashion Design is quite fascinating, and the teacher is not only very professional and knowledgeable, but also very caring and patient. She always has a way to get us interested in her lessons. She is such an excellent teacher!"
During the interview, you can feel that Ms. Yue is a optimistic and proactive teenager. When asked for comments on her peers, she maintains her positivity, "I can see that my classmates have many different talents. If they are given opportunities to display those talents, they will definitely shine. Even though some of them may occasionally have bad behaviours or emotional outbursts, I believe they are still good in their hearts. Do not discriminate against us transferred students, we have so much capacity to improve ourselves!"
Ms. Yue always has a smile on her face. She does not believe that there are obstacles and pitfalls in front of her. Instead, she sees opportunities and possibilities for her to choose from. As she said, if they are given opportunities, they will surely shine and succeed. We hope Ms. Yue will treasure this opportunity to study here, and find the right path to continue her wonderful life.