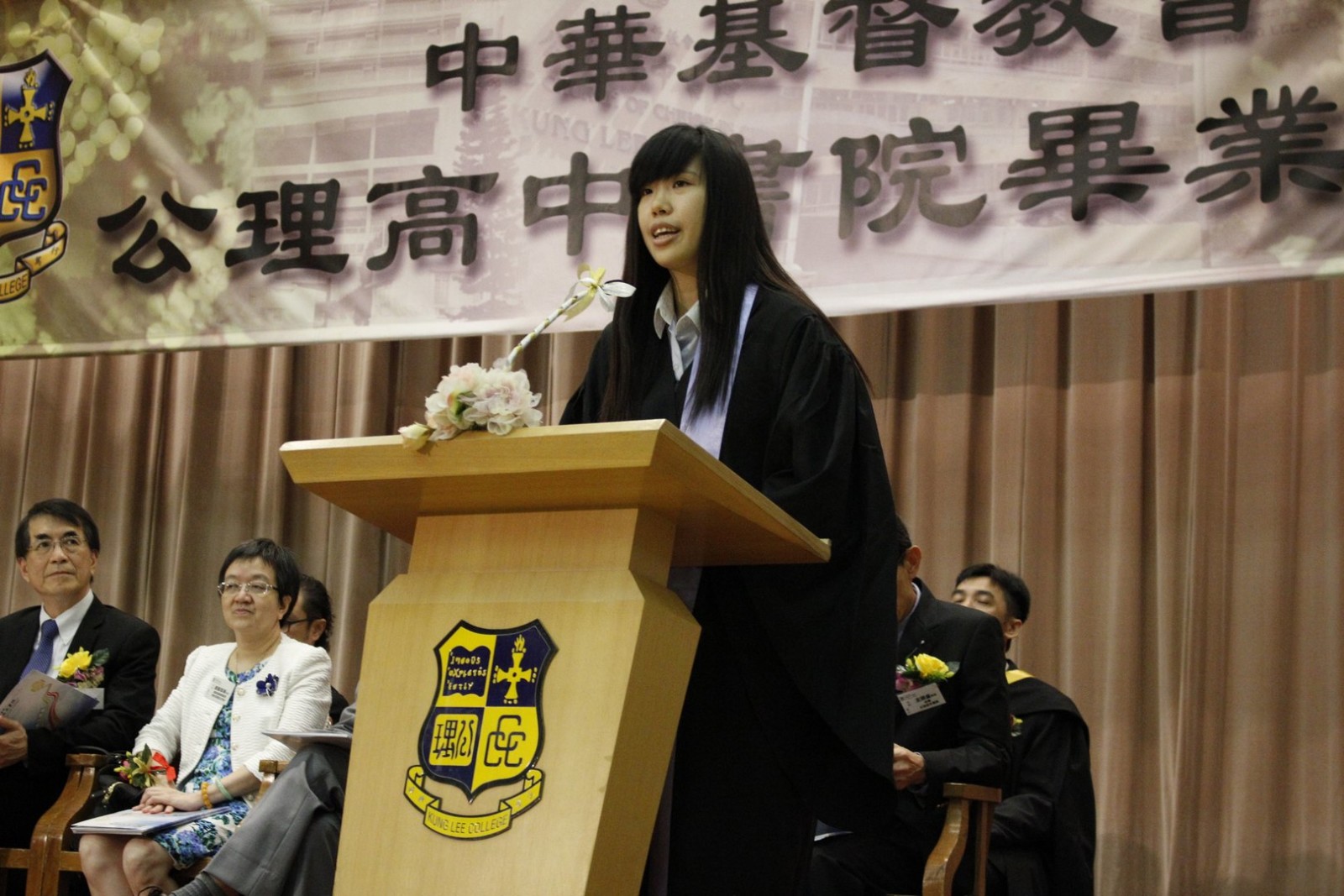 Eunice came to Kung Lee College in 2012 as a Form 4 student. She took the HKDSE examinations in 2015 and was accepted by the Hang Seng University of Hong Kong, majoring in Business Administration, with a focus on Supply Chain Management.
"From my point of view, being able to go to university was like a dream come true!" said Eunice. At the beginning of her secondary education, she found that her academic results were not as good as her peers. She was even asked to repeat Form 3. Not wanting to repeat the year, she transferred to Kung Lee College to continue her studies.
"I chose Kung Lee because of its unique programme offerings. After completing Form 4, a student could decide between studying in the HKDSE or the VET programmes. Both programmes are professionally recognised, so both paths can give students access to higher education and a variety of careers." In the end, Eunice successfully passed Form 4 and decided to continue in the HKDSE programme.
"I think studying requires much self-confidence. At the beginning, I lacked self-confidence, so I had poor academic results. After transferring to Kung Lee, I was cared for by very kind teachers, especially my class teacher, who gave us much encouragement to regain confidence in our learning abilities. I think that stopped me from giving up on my studies." However, to someone like Eunice who was asked to repeat a school year, going to university still seemed like an impossible dream.
"Kung Lee College allows us to study the subjects that we are interested in, but I did not really care about which subjects I chose, because I thought I couldn't get into university anyway. I chose Economics and Tourism and Hospitality Studies in the end. I was not sure about applying on JUPAS, because I thought it would be a waste of money in the end. I never thought I could get into university." When Eunice received her HKDSE results, she was beyond happy because she had been accepted by a university.
"I spend way more time studying now than during secondary school. I have homework every day, many readings to complete, projects and presentations to do. University life is quite exhausting." Despite all these hardships, it is clear from Eunice's smile that she enjoys her university life.
When asked about her future goals, Eunice replied, "Nowadays, the logistics and air transportation industries are in a period of immense growth, whether in Hong Kong or the Mainland. With the rise of online shopping, demands on logistical management have been growing. I believe I will have opportunities to develop in this area in the future." It seems that Eunice already has a plan for her life, shortly after leaving secondary school.
We wish her a bright future!