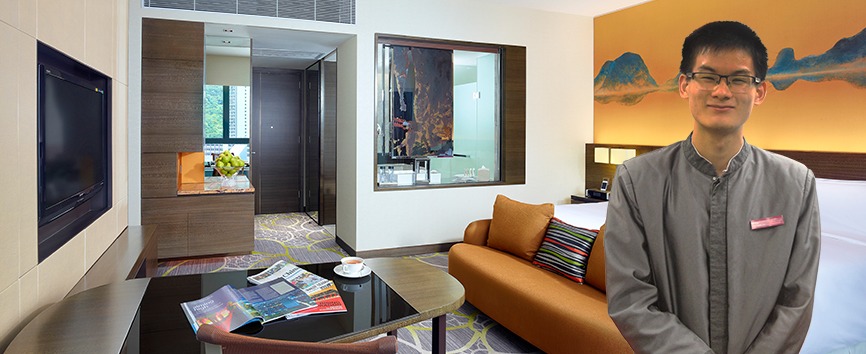 Diploma in Hospitality and Tourism Management Programme
Year 2 Student
After moving from my birthplace of Hubei to Hong Kong, I immediately enrolled in the HKDSE programme at Kung Lee College. It has been four years since then, and I have learned and grown much since then. After completing the HKDSE programme, I originally hoped to enrol in a Higher Diploma programme using my HKDSE scores. Unfortunately, I failed in English Language, so I had to give up on that plan. Fortunately, the further studies counsellors at Kung Lee gave me an alternate path by telling me that I could continue my studies in the VET programme at the College, which would give me a QF Level 3 academic qualification, and allow me to enter a Higher Diploma programme. Therefore, I decided to enrol in the Diploma in Hospitality and Tourism Management Programme at Kung Lee. Since I had already completed Form 6, I could enter directly into Year 2 of the Diploma Programme.
I had not studied anything related to Tourism and Hospitality in the past, so I found the course to be a bit difficult at the beginning. Fortunately, the College and teachers gave us extra lesson hours and supplementary classes to help recent transferees catch up with curriculum progress, which helped me build a solid base in catering services and cooking knowledge. Eventually, I was able to graduate by passing all the exams and successfully completing my work placement.
I am so thankful towards Kung Lee's teachers for teaching and caring for me throughout these four years. They helped me adapt to the unfamiliar environment after my move from Hubei to Hong Kong. The teachers teach us with heart and patience, accommodating for our mistakes and using their wisdom to guide us on the right track. They are good at finding each student's strengths, giving support and praise, so that students can regain their self-confidence. I would like to express the highest gratitude to Kung Lee's teachers for all they have done for me, which encouraged me to pursue my own goals and dreams.
2018-06-22