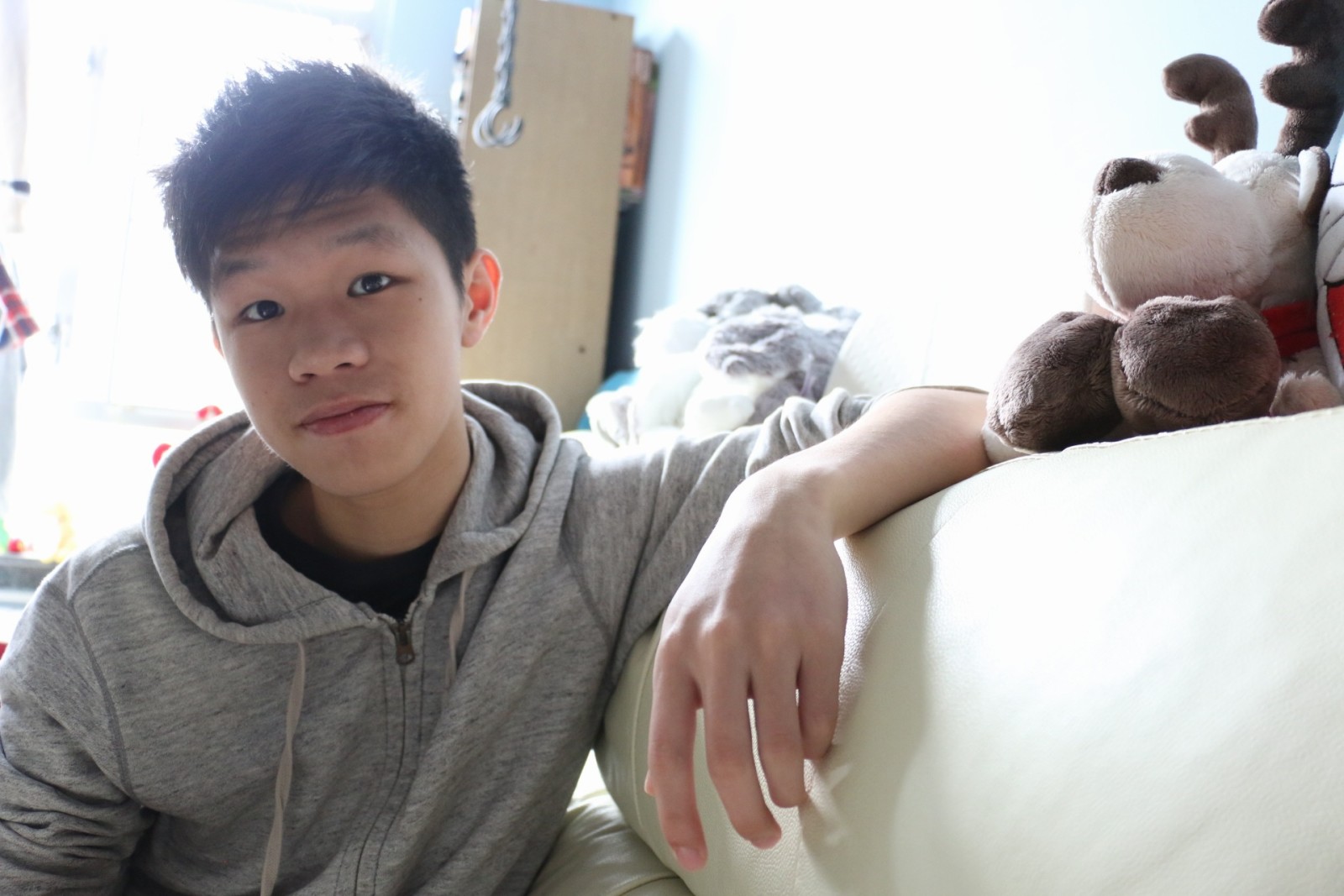 Mr. Lau Pan Hei is a world-class athlete who studies in Form 5 at Kung Lee College. He has been representing Hong Kong in international rope-skipping competitions since 2014, participating in events in Hong Kong, Japan, Malaysia, China's Dalian, Nanning, and Shanghai. This year (2016), he represented Hong Kong in the International Rope-Skipping Federation World Championship, and achieved second place in the team event. He is truly a world class amateur athlete.
Mr. Lau transferred to Kung Lee in the middle of the last academic year. "I still remember coming into Kung Lee last February, shortly after the beginning of Term 2. I never thought that a school would admit me in the middle of term, but since I got the chance to study here, I took it," said Mr. Lau. He added, "Going back to school after a year off took some getting used to, especially because I have to wake up early since I live quite far away. It was quite tiring at the beginning!" After completing Form 3, Mr. Lau lost his learning motivation and quit his previous school. In his own words, he stayed at home all day and became a "rubbish teenager".
Fortunately, Mr. Lau remained passionate about rope-skipping. Even though he did not attend school, he spent a lot of time practising rope-skipping. During that time, he met Coach Ma, who knew about Mr. Lau's background and was especially caring towards him. "Coach Ma took me to a job interview for a part-time waiter at a Café, but my academic qualifications were so inadequate that I couldn't even get that job!" Thus, Coach Ma encouraged him to return to school, helped him find Kung Lee College, and even took him to the College to apply for an interview. "I was pretty bored at home. Since Coach Ma helped me find a place at Kung Lee, I thought I might just give it a try. At the beginning, I was worried that I wouldn't be able to keep up, but I found I was able to adapt to this environment and allow myself a chance to start from the beginning."
When asked about his thought towards studying at Kung Lee, he said, "Kung Lee not only gave me a chance to learn, but it also allowed me to develop my other potentials. Because of Kung Lee's modular curriculum, I have a flexible timetable for coming back to school. I often have to participate in external competitions, but my lost lesson hours could be regained in extra lessons under the modular system. Sometimes I attend school until 6pm! The school also provides me with a platform to showcase my talents and recognises our extra-curricular achievements. This is very encouraging to me, and I thank Coach Ma for bringing me here."
Mr. Lau seems to have a lot of respect for Coach Ma. He said, "Coach Ma is a very caring person. He not only teaches me how to skip rope, but he also guides me in how to live my life. He says he's a very nosy person, but I know he truly cares for his students and wants to understand the. He is a teacher and also a friend, I respect him and treat him as my role model. I hope I can become a full-time rope-skipping coach too, or even a PE teacher, so that I can turn my hobby into my profession."
Mr. Lau is very hopeful about his future career: "I don't want to experience being rejected for a job because of low academic qualifications again! After I graduate from secondary school, I will continue my studies to improve myself. Last summer, I received a basic coaching qualification, and I am already teaching rope-skipping to children in primary schools. But if my goal is to become a fully qualified coach, my academic qualifications must not be too low. Even if I cannot make it into university, I will still further my studies and pursue my life goals. I hope to spread this message to my classmates: find your own interest, be determined in your dreams, and move towards your goals."
Mr. Lau's story is one of a transformation from "opportunity" to "hope". The College wishes him the best of luck in realising his dreams.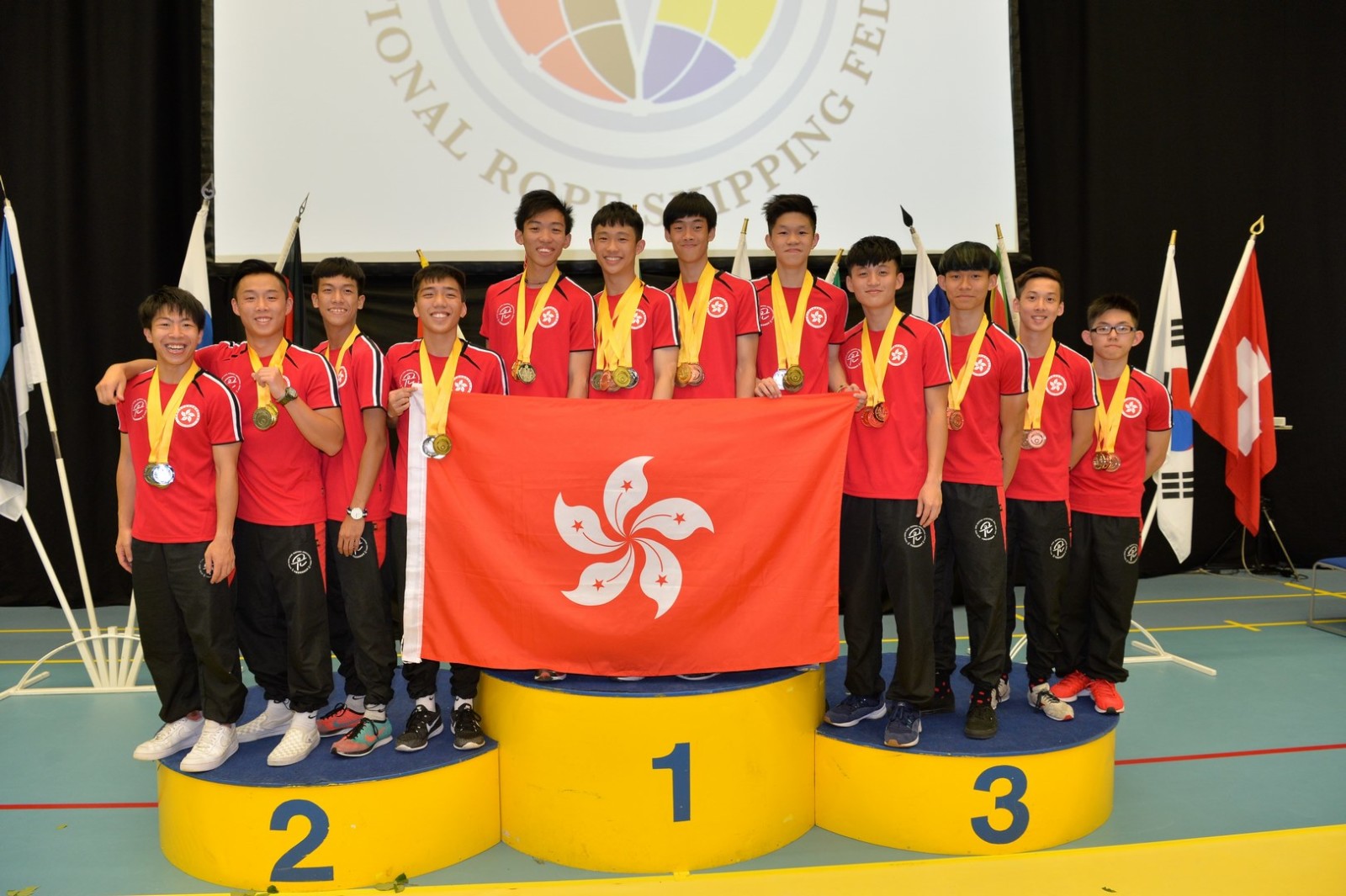 Mr. Lau (5th from the right) achieved outstanding results at the International Rope-Skipping Federation World Championship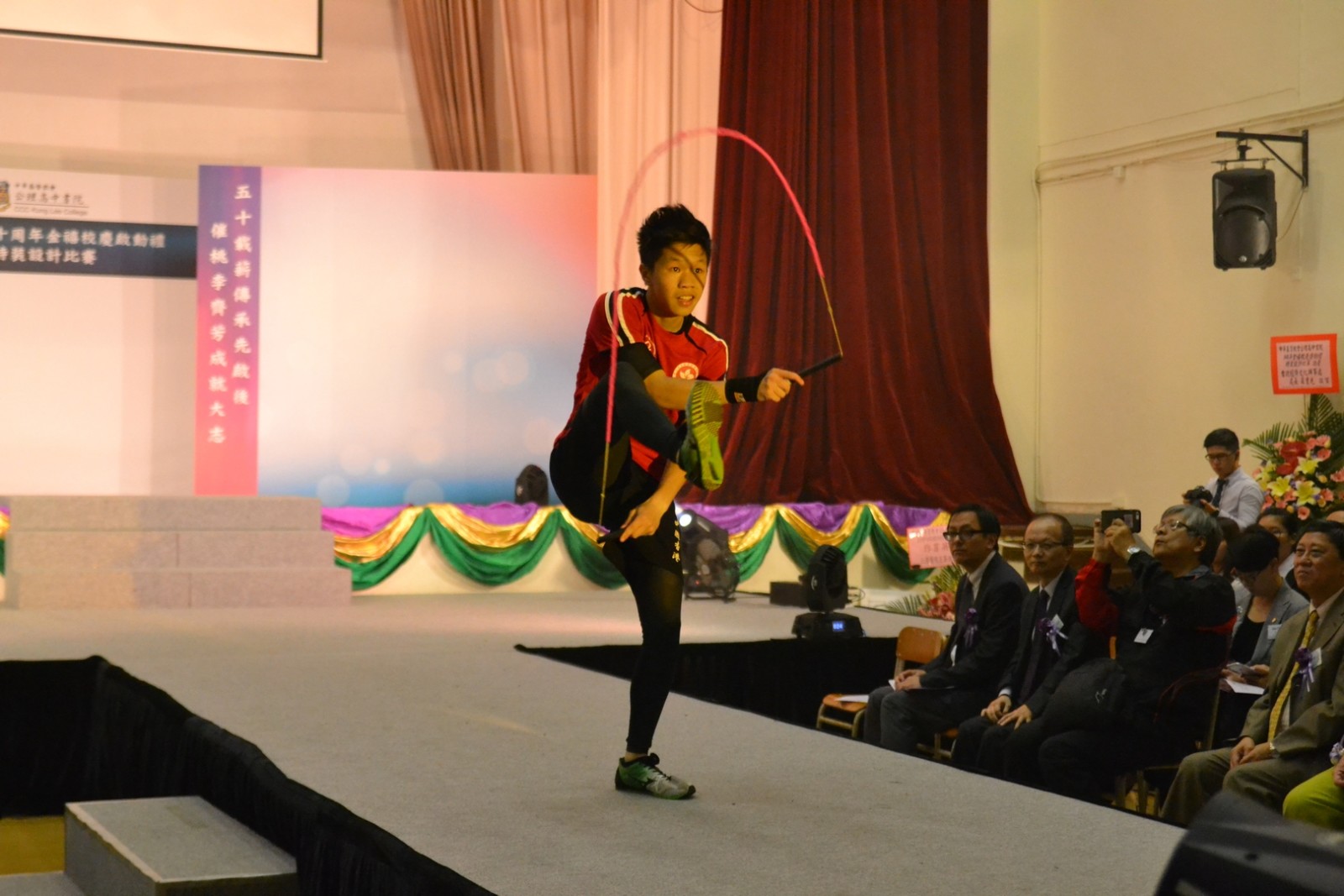 Mr. Lau showed off his skills at the opening ceremony of the College anniversary celebration