"I came that they may have life, and may have it abundantly." John 10:10
Positive Accomplishment|Positive Relationships|Positive Emotions|Positive Health|Positive Meaning
The College has designed a school-based Life Education course to complement its HKDSE programme. The Life Education course helps students structure their lives and adopt positive values, with a base in Christian values.
The College's vision is to nurture students who possess both academic knowledge and positive life values, so that they may become "College Ready and Life Ready" as capable young men and women. We believe in the importance of developing virtue and character in the youth, and the College's Life Education course has been designed to this end.
Course aims:
Put into practice the College's motto of "College Ready, Life Ready" through providing life education to students.
Develop students' virtues and character strength based on Christian values.
Establish in students through a variety of themes and activities: Positive Accomplishment, Positive Relationships, Positive Emotions, Positive Health, and Positive Meaning.
Course features:
Experiential learning elements were introduced to the course in 2019 through the addition of physical musical and artistic elements, taught by professionals according to students' interests. Students have the opportunity to discover, develop, and showcase their talents through the College's platforms for performance (e.g. Kung Lee's Got Talent), where they also establish a sense of accomplishment.
The course emphasises whole-person development, divided into the domains of body, mind, society, and spirit. In 2020, the 24 character strengths were introduced into the course in order to promote even fuller growth and development.
The College's Life Education course has been recognised and supported by many external organisations and churches. The support from these organisations and churches has allowed the College to increase its care towards each student's spiritual development. Beginning from 2018, external life coaches have been invited to provide more support to students.
The College emphasises constant improvement in learning and teaching, in order to continually raise the standard of support towards students. Therefore, in 2020, elements of design thinking were introduced to the course, including the promotion of "Design for Change" through project-based learning, so that students could learn how to conceptualise, design and implement a creative action plan. Through this project, students can learn how to cooperate with others, and improve their knowledge, skills and attitudes through the project learning process.
Vision for the Future: Broaden Students' Horizons, from the Campus to the Community
As a member of the local community, the College can cooperate with other stakeholders to build a better community for all. Therefore, the College hopes to encourage more interaction between students and the community in the future, in order to broaden students' horizons so they may implement their knowledge, skills and attitudes from the campus to the community. Moreover, the College hopes to increase the partnership between life education and life planning, with an emphasis on introducing career coaching to provide students with personalised life planning and personal growth coaching, and to allow students to better understand their strengths, characteristics, advantages and disadvantages etc.
Appendix 1: Virtues and character strengths (Peterson & Seligman, 2004)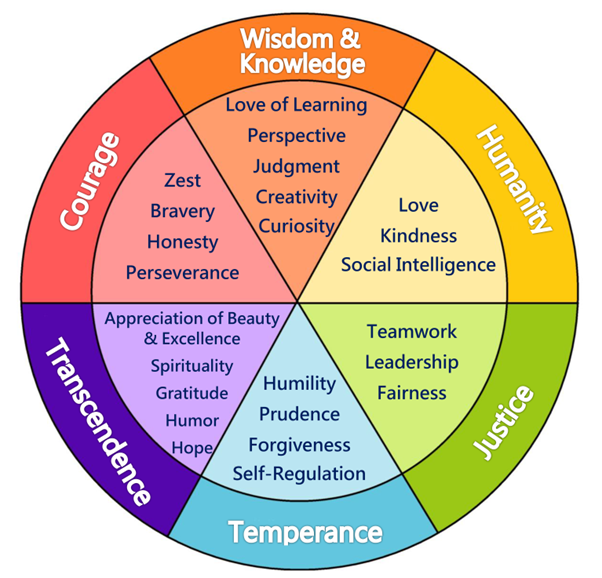 Appendix 2: Partner organisations and churches
| | |
| --- | --- |
| The Church of Christ in China (CCC) Wanchai Church* | New Life City Church* |
| The Church of Christ in China China Congregational Church* | E.F.C.C. Aldrich Bay Church* |
| The Church of Christ in China Chai Wan Church* | Little Fire* |
| The Church of Christ in China Hop Yat Church (North Point)* | Wakeup* |
| Grace Evangelical Church* | Fan Fire* |
| Eastern District Praise Assembly* | Design for Change Hong Kong* |
| Hung Hom Christian Church* | Youth With A Mission (YWAM) Hong Kong |
| Eng Yu Evangelistic Mission* | The Church of Christ in China Shum Oi Church |
*Currently partnered organisations and churches
Appendix 3: Main course content
Form

Term 1

Term 2

Term 3

Form 4

Character strength: self-regulation
Successful habits (personal)

Character strength: wisdom
Cherishment course

Character strength: courage
Positive education course

Form 5

Character strength: kindness
Successful habits (social)

Character strength: justice
Teamwork

Character strength: spirituality
Values restructuring

Form 6

Benchmarking life
Time management

Getting to know emotions and stress
Life education in films

Body, music and arts

Body: board games, sports, Switch games
Music: musical activities, instrumental groups
Arts: art workshops, art therapy, photography, image building, cooking
"Good vibes project" group activities

Campus beautification project

Tabletop games

Making food for people in need

Body, music and arts activities: "artistic creations"

Body, music and arts activities: music sharing

Praise week 2020